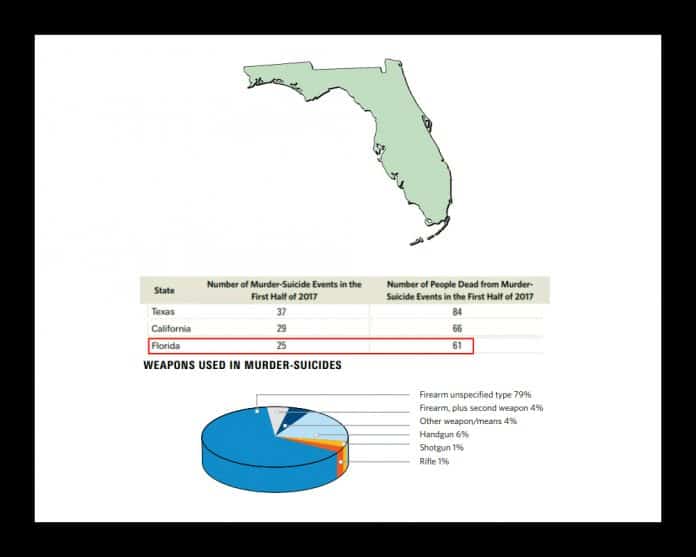 A recently published study listed Florida as the third-highest state for murder-suicide deaths and cases in the country last year, behind Texas and California.
According to the recent study called "The American Roulette," by the nonprofit Violence Policy Center, 663 people died in the country during the first six months of 2017 — about 11 cases per week — in incidents classified as murder-suicides. The center reported that 367 people were killed and 296 committed suicide.
Eight states had 10 or more murder-suicides in the six-month period of the study. In order, these states were: Texas (37); California (29); Florida (25); Pennsylvania (18); Illinois (11); Kentucky (11); Ohio (11); and Tennessee (11).
In the first half of 2017, in Florida, there were 25 incidents that left 61 people dead. Jeremy Pettit, an expert in depression, anxiety and suicidal behavior at Florida International University, told the Miami Herald that murder-suicides are primarily a societal and public health problem, not a policing or criminal one.
"Until we make mental health and suicide prevention a priority on local, state, and national levels, suicide rates and murder-suicides will likely continue to increase as they have over the last 15 years," Pettit told the Miami Herald.
The findings in American Roulette include: