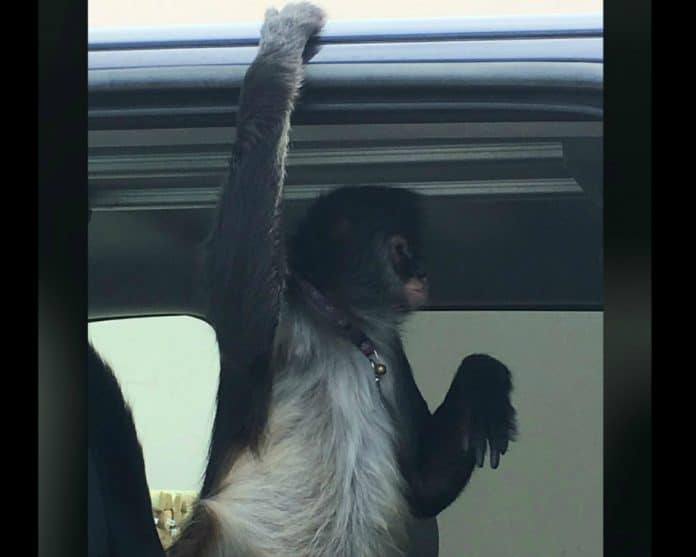 OKEECHOBEE, FL –  Authorities arrested a Florida woman who was on the run to prevent state officials from seizing her pet monkey. The monkey's owner, Tina Ballard, was charged with evidence tampering after she fled Florida and told Florida Wildlife Commission (FWC) officers that she wouldn't allow them to apprehend her spider money "Spanky."
Spanky made national headlines last month after he escaped from Ballard's parked truck and allegedly bit an employee at a Hope Depot in Lake Okeechobee.
Assistant State Attorney Ashley Albright said Ballard fled Florida to avoid a court hearing but was apprehended by authorities in North Carolina. Ballard will be extradited to Florida for her hearing. According to Albright, Ballard emailed Florida FWC's investigating officer stating that she was aware of the hearing and she was fleeing to North Carolina in order to hide the monkey so that state officials could not take take her pet into their possession.
According to Okeechobee News, Ballard is being charged with a series of misdemeanors, including two counts of maintaining captive wildlife in a neglectful manner, one count on failure to vaccinate an animal for rabies, improper caging of captive class I, II, or specified III wildlife, and culpable negligence causing harm. She is also being charged with failure to have a safety entrance for captive class I, II, or specified III wildlife which is a violation of Florida Administrative Code.
Judge Jerald D. Bryant from the 19th Judicial Circuit. who presided over the bond hearing, set Ballard's bond  $29,000 on the aforementioned charges. He also informed Alex Weintraub,Ballard's attorney, that he issued a court order so she could not be in possession of the spider monkey but also ordered that Spanky could remain in the possession of another authorized entity.
"If law enforcement finds her (Ballard) in possession of it (Spanky), then they can seize the monkey at that point and give it to someone who is authorized to possess it," Bryant said.
In an email sent on June 20, Ballard tried to explain her actions to FWC Officer Bradley Toby.
"I do not trust that the state will not try and take Spanky, as you know," Ballard wrote. "So I have taken her and my other animals home to assure they are not confiscated … I have been caring for my injured mother and my 19-year-old daughter (who needs a heart transplant) in North Carolina and feel it is more important to be there for them.
"I have a phone interview set up with my attorney to handle bail and all that, I stayed in Florida while on quarantine and completed all health issues with Spanky," Ballard added. "I showed up for my hearing and will do so again on July 16. I was to complete Spanky's habitat within the next two days, however, felt it more important to get her to safety with my daughter and mother after hearing how full-on they are coming after me. I have no one here to care for the animals and legally for Spanky. I am doing my best to comply with all requirements and have no desire to be a fugitive."
Latest posts by News Desk
(see all)