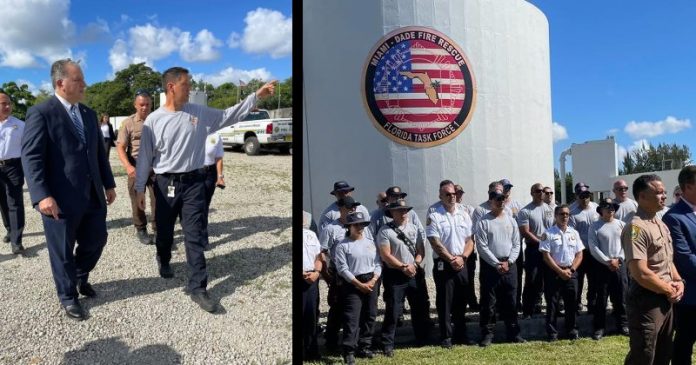 This week, state Chief Financial Officer (CFO) and State Fire Marshal Jimmy Patronis toured the Urban Search and Rescue (US&R) Florida Task Force 1 Training Center where he assessed hurricane preparedness and discussed the importance of Urban Search and Rescue (US&R) teams.
There are a total of eight US&R teams statewide that are immediately deployed to aid communities that have been impacted by a natural or man-made disaster. Patronis was joined by members of Florida's US&R Task Force 1, Miami-Dade Fire Rescue Fire Chief Ray Jadallah, Miami-Dade County Commissioner Kevin Cabreraand Miami-Dade County Commissioner Rene Garcia.
"It was an honor to be in Miami today with Florida's US&R Task Force 1 members to highlight their efforts and assess hurricane preparedness measures ahead of hurricane season. I can't thank this task force enough for their service and sacrifice to our state. These heroes were some of the first to respond to the Surfside Condo collapse and also deployed to Southwest Florida following Hurricane Ian. Last legislative session, I was proud to advocate and secure $10 million in funding to provide these teams with more equipment to aid in their life-saving missions. This year, we will continue to fight to ensure our US&R teams have the training and resources they need. With the 2023 Hurricane Season right around the corner, Floridians statewide must prepare now and ensure you, your family, and your business have a disaster plan in place," Patronis said.
Jadallah said, "As Floridians, we know all too well the devastation that hurricanes can cause. We train year-round to ensure our dedicated FL-TF1 team members are prepared for the worst. A huge thank you to CFO Patronis for recognizing our first responders today and bringing awareness to the importance of hurricane season preparedness."
Cabrera said, "It was an honor to join CFO Patronis and our US&R Task Force 1 members this morning to tour one of their training centers. Without a doubt, I am incredibly grateful for their dedication. Our US&R members are the first boots on the ground following a disaster and they run towards danger to provide life-saving resources. The 2023 hurricane season will be here before we know it and our TF1 team is prepared to brave the most challenging of conditions to keep our communities safe."
Garcia said, "Preparation is key when it comes to ensuring the safety of Floridians. We know from experience the devastating impact a hurricane can have on our communities, which is why it is so important for our US&R members prepare. Thank you to the members of the US&R Task Force 1 for staying ready to help our communities when they need it most and to CFO Patronis for highlighting the importance of our dedicated team members."
Urban Search & Rescue Task Force Capabilities
• Physical search and rescue operations in damaged/collapsed structures
• Emergency medical care for entrapped survivors, task force personnel and search canines
• Reconnaissance to assess damage and needs, and provide feedback to local, state, tribal, territorial and federal officials.
• Assessment/shut-off of utilities to houses and other buildings
• Hazardous materials surveys/evaluations
• Structural/hazard evaluations of buildings needed for immediate occupancy to support disaster relief operations
• Stabilizing damaged structures, including shoring and cribbing operations on damaged buildings
• Hazardous Materials Equipment Push Packages for operations in a contaminated environment
• Search and rescue operations in a water environment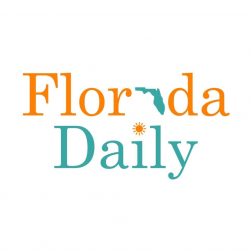 Latest posts by Florida Daily
(see all)