Now at the start of his second term in Congress, U.S. Rep. John Rutherford, R-Fla., is taking over as co-chairman of the Congressional Lung Cancer Caucus.
Rutherford announced on Monday that he and U.S. Rep. Brendan Boyle, D-Penn., will lead the caucus which had more than 35 members in the last Congress.
"Serving as co-chair of the Lung Cancer Caucus provides an opportunity to advocate for greater awareness and the pursuit of solutions to end one of the most common cancers worldwide," said Rutherford. "I have met many constituents whose lives have been affected by this terrible disease and seen firsthand how important it is to find an end to lung cancer. I am honored to help lead this critical effort and look forward to achieving meaningful legislative successes to reduce the impact of lung cancer in 2019 and beyond."
"A quarter-million Americans are newly diagnosed with lung cancer each year, 80 percent of whom never smoked or quit over a decade ago. Yet, the incredible stigma of lung cancer remains, hurting research, treatment, and ultimately patient survival," said Boyle. "As co-chair of the Lung Cancer Caucus, I am committed to breaking down this stigma, advocating for those affected by this cruel disease, and finally getting the resources we need to bring lung cancer to an end."
"We are thrilled to maintain this important platform in the new Congress to continue to raise awareness and educate Members and staff on issues of lung cancer early detection and research needs," said Laurie Fenton Ambrose, the president and CEO of Lung Cancer Alliance. "Thank you, Congressman Boyle and Congressman Rutherford for being our caucus co-chairs and champions as we move forward in the 116th Congress."
"Lung cancer is the second most common cancer and is a leading cause of death in the United States. Each year more people die of lung cancer than colon, breast, and prostate cancer combined," Rutherford's office noted before showcasing what the caucus focuses on. "The Lung Cancer Caucus helps educate and inform members of Congress on issues specifically related to eliminating the stigma, reducing mortality, improving survivorship, furthering research, and ensuring equitable access to preventive screening, treatments, diagnostics and testing of lung cancer."
A career law enforcement officer who was elected sheriff of Duval County, Rutherford ran for an open congressional seat in 2016. He easily won reelection back in November in a strong Republican district.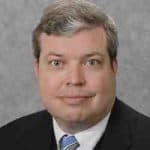 Latest posts by Kevin Derby
(see all)