The "U.S. Metropolitan Area Economic Freedom Index" uses nine different measures of state and local government policies across three broad areas (taxes, spending, and labor market restrictions) to produce an overall score for each of the nation's 382 large metropolitan statistical areas (MSAs).
U.S. Rep. Stephanie Murphy teamed up with U.S. Rep. Brian Fitzpatrick, R-Penn., a frequent legislative ally, to bring out the "Keep Congress Working Act" which  "would require Congress to remain in session and work if the government is shut down."
Persons announced on Tuesday that she will launch her bid on Feb. 25 with the support of state Sen. Lizbeth Benaquisto, R-Fort Myers, state House Majority Leader Dane Eagle, R-Cape Coral, and state Rep. Raymond Rodriguez, R-Estero.
U.S. Sen. Marco Rubio discussed the ongoing political developments in Venezuela, the new government of interim President Juan Guaidó, and next steps for U.S. policy.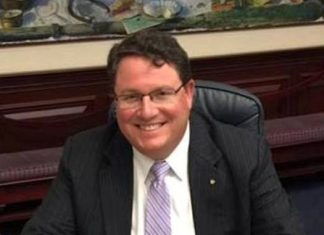 State Rep. Randy Fine, R-Palm Bay, showcased his legislation on Monday, calling on Florida to use the same definitions of anti-Semitism as the U.S. State Department does. 
The governor and the senators wrote President Donald Trump on Monday, asking him to include $200 million in annual budgets for construction funding for South Florida Ecosystem Restoration (SFER).