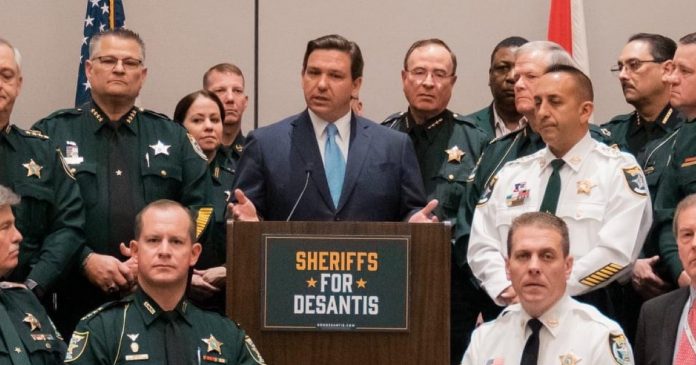 Most sheriffs in Florida–59 of the 67 across the state–announced on Monday they were backing Gov. Ron DeSantis in his reelection campaign.
"Florida's sheriffs are on the front lines protecting our communities, and it is an honor to earn their support," said DeSantis. "I am grateful for the sacrifice the men and women of Florida's sheriffs' offices make every single day. As governor, I will continue to ensure Florida remains the friendliest state in the nation for law enforcement and their families."
Each of the 59 sheriffs offered their support for Governor DeSantis' reelection campaign in a statement saying:
"We are proud to join together in endorsing Governor Ron DeSantis for reelection in 2022. The strength and enthusiasm with which he has supported law enforcement in Florida is second-to-none.
"Law enforcement and first responders have sadly become the targets of ridicule and contempt from elected officials across the country, but Florida remains a sanctuary of support for men and women in blue. We know our governor has our backs. Other cities and states are defunding police departments while Florida, under Governor DeSantis' leadership, is supplying law enforcement officers with the resources and backing we need to keep Floridians safe.
"In just three years as governor, he's awarded $1,000 bonus checks to sworn law enforcement officers, banned sanctuary cities, and signed the strongest anti-rioting measures anywhere in America. Governor DeSantis protected law enforcement jobs by rejecting vaccine mandates that would have resulted in many of our officers from losing their jobs.
"The governor is further proposing significant pay increases for both new and veteran officers, another round of bonus checks, scholarships for prospective officers seeking to join our ranks, and $5,000 recruitment bonuses for new officers – both from Florida and those relocating to Florida from out of state.
"Governor DeSantis' support extends far beyond effective policies. He's created a climate of appreciation for Florida's law enforcement. We know we have the full backing of our governor and that support flows down each neighborhood we serve across the state.
"Governor DeSantis has our unwavering support and endorsement for reelection in 2022. Together, we can keep Florida safe."
Sheriffs Endorsing:
Sheriff Scotty Rhoden, Baker County
Sheriff Tommy Ford, Bay County
Sheriff Gordon Smith, Bradford County
Sheriff Wayne Ivey, Brevard County
Sheriff Glenn Kimbrel, Calhoun County
Sheriff Bill Prummell Jr., Charlotte County
Sheriff Mike Prendergast, Citrus County
Sheriff Michelle Cook, Clay County
Sheriff Kevin Rambosk, Collier County
Sheriff Mark Hunter, Columbia County
Sheriff James Potter, DeSoto County
Sheriff Darby Butler, Dixie County
Sheriff Mike Williams, Duval County
Sheriff Chip Simmons, Escambia County
Sheriff Rick Staly, Flagler County
Sheriff A.J. Smith, Franklin County
Sheriff Morris Young, Gadsden County
Sheriff Bobby Schultz, Gilchrist County
Sheriff David Hardin, Glades County
Sheriff Mike Harrison, Gulf County
Sheriff Harrell Reid, Hamilton County
Sheriff Vent Crawford, Hardee County
Sheriff Stephen Whidden, Hendry County
Sheriff Al Nienhuis, Hernando County
Sheriff Paul Blackman, Highlands County
Sheriff Chad Chronister, Hillsborough County
Sheriff John Tate, Holmes County
Sheriff Eric Flowers, Indian River County
Sheriff Donald Edenfield, Jackson County
Sheriff Mac McNeill Jr., Jefferson County
Sheriff Brian Lamb, Lafayette County
Sheriff Peyton Grinnell, Lake County
Sheriff Carmine Marceno, Lee County
Sheriff Bobby McCallum, Levy County
Sheriff Buddy Money, Liberty County
Sheriff David Harper, Madison County
Sheriff Charles Wells, Manatee County
Sheriff Billy Woods, Marion County
Sheriff William Snyder, Martin County
Sheriff Rick Ramsay, Monroe County
Sheriff Bill Leeper, Nassau County
Sheriff Eric Aden, Okaloosa County
Sheriff Noel Stephen, Okeechobee County
Sheriff Chris Nocco, Pasco County
Sheriff Bob Gualtieri, Pinellas County
Sheriff Grady Judd, Polk County
Sheriff Gator DeLoach, Putnam County
Sheriff Robert Johnson, Santa Rosa County
Sheriff Kurt Hoffman, Sarasota County
Sheriff Dennis Lemma, Seminole County
Sheriff Robert Hardwick, St. Johns County
Sheriff Bill Farmer Jr., Sumter County
Sheriff Sam St. John, Suwannee County
Sheriff Wayne Padgett, Taylor County
Sheriff Brad Whitehead, Union County
Sheriff Mike Chitwood, Volusia County
Sheriff Jared Miller, Wakulla County
Sheriff Mike Adkinson Jr., Walton County
Sheriff Kevin Crews, Washington County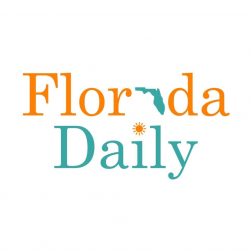 Latest posts by Florida Daily
(see all)