With the new year looming, the State University System's Board of Governors announced it will have a new leadership team in place.
Syd Kitson, the chairman and CEO of Kitson & Partners, a real-estate company that creates master-planned communities and commercial properties, will take over as chairman of the Board of Governors. He starts his new duties on January 1 and will serve until the end of December 2021 He has been on the Board of Governors since June 2017, including serving as the vice-chairman and leading its Budget and Finance Committee.
"We've made incredible progress in these past few years, and I couldn't be more excited about the potential we have in front of us," Kitson said on Wednesday after he was elected. "I look forward to building on the great work of my predecessors while also moving forward with some new strategies to make the State University System even stronger."
Brian Lamb takes over as vice-chairman and, like Kitson, will serve in that role from the start of 2020 until the end of 2021. Lamb, the former chairman of the Board of Trustees at the University of South Florida, is the executive vice president and head of retail banking and retail brokerage at Fifth Third Bank. He has served on the Board of Governors since March.
"The State University System is key to Florida's economic prosperity, and I'm thrilled to work alongside chair-elect Kitson to push our institutions to even greater heights," Lamb said. "It's an honor to be selected by my colleagues, and I will do everything in my power to ensure the success of our System and our students."
Chairman Ned Lautenbach, who is termed out, was thanked by the Board for his work.
"Under Lautenbach's leadership, Florida has maintained its U.S. News & World Report ranking as the no. 1 state for higher education and advanced a number of important initiatives around student success and well-being, budget and finance and online education," the Board noted.
The 17-member Board of Governors oversees the State University System of Florida's 12 universities which have more than 340,000 students.
Reach Kevin Derby at kevin.derby@floridadaily.com.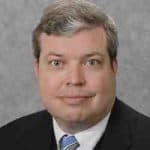 Latest posts by Kevin Derby
(see all)