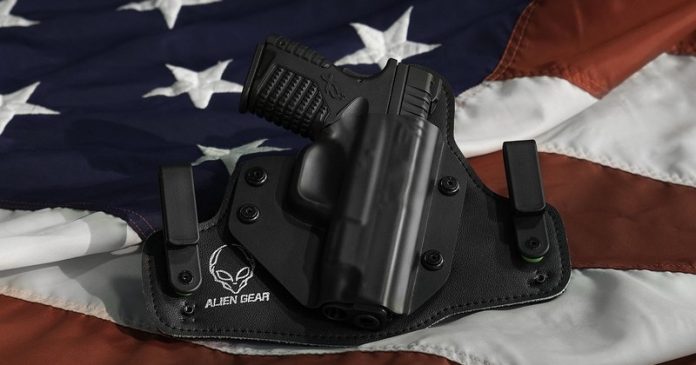 State Reps. Chuck Brannan, R-Macclenny, and Bobby Payne, R-Payne, are championing the "Concealed Carry of Weapons and Firearms Without a License" proposal, a pro-Second Amendment bill that supporters call "constitutional carry."
The bill would allow Floridians to carry a gun without a concealed carry permit.
The legislation has the support of Gov. Ron DeSantis, Florida House Speaker Paul Renner, R-Palm Coast, the NRA of Florida and Hernando County Sheriff Al Nienhuis, who is the president of the Florida Sheriffs Association.
Florida Democrats quickly opposed the legislation, claiming that gun violence would increase throughout the state if passed.
But the most notable complaints about the bill didn't come from liberals, but from Second Amendment supporters who describe it as a"fake version of 'constitutional carry."
The Gun Owners of America's(GOA) Florida chapter insisted the legislation didn't go far enough.
"Governor DeSantis must demand that open carry be added to the current legislation moving through Tallahassee, or we will frustratingly remain in very bad company," said Florida GOA Director Luis Valdes.
The Florida Republican Liberty Caucus (RLC) dismissed the bill as "watered down."
"As we feared, the House Republican leadership decided to put forth a weak watered-down bill… and have the gall to call it a constitutional carry bill. This bill would eliminate the requirement to have a concealed weapons permit to carry a concealed firearm. This is a permitless concealed carry bill. That's all it is. It is not a constitutional carry bill. It does not allow open carry and it does not address the long-standing prohibition against carrying on a college or university campus," the RLC insisted. "This bill falls far short of a true constitutional carry bill which is very disappointing, especially with a supermajority of Republicans in both chambers as well as a popular Republican governor. If we accept this watered-down bill now, we will likely never see a true constitutional carry law."
Supporters of the bill disagree with how the GOA and the RLC characterized it.
"Would we like to see other pro-gun provisions moved forward in the legislature? Yes, but this bill is a win-win for gun owners," said state Sen. Blaise Ingoglia, R-Spring Hill.
Brannan said his proposal would continue to advance Second Amendment freedoms and a prominent Florida sheriff agreed with that assessment.
"This bill is a big step to help the average law-abiding citizen to keep from having to go through the hoops of getting a permit from the government to carry their weapons," said Brevard County Sheriff Wayne Ivey.
According to the Florida Department of Agriculture, more than 2.5 million Floridians have concealed carry permits.