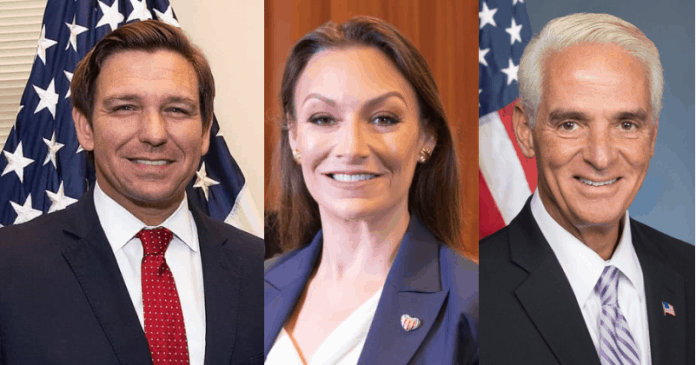 Florida Agriculture Commissioner Nikki Fried says she's ready to get rolling for the primary season as she continues her bid for the Democratic nomination to challenge Gov. Ron DeSantis.
Fried has called for at least five debates with her primary opponents including U.S. Rep. Charlie Crist, D-Fla., and state Sen. Annette Taddeo, D-Miami.
But some Democrats increasingly want her out of the race. Last month, Politico reported that there was a behind-the-scenes effort targeting Fried, hitting her for her past relationships with Republicans, including donating money to GOP candidates, when she was a lobbyist.
With Fried having gone after Crist, who won three statewide offices as a Republican including winning the 2006 gubernatorial election, for his past ties with the GOP, some observers feel that the agriculture commissioner is now facing retaliation.
"It's no secret Democrats feel Fried can't win, so they want her out of the race so they all can get behind Crist," said Barney Bishop, the former executive director of the Florida Democratic Party.
Crist has been leading Fried and Taddeo in the polls. In March, Floridians for Economic Advancement polled 701 likely Democratic Primary voters and found Crist ahead with 43 percent with Fried at 33 percent.
Fried has insisted she remains confident that she will be the Democratic nominee. During most of her campaign, she has run to the left, comparing DeSantis to Hitler, claiming the GOP's election reforms are "voter suppression" and attacking Florida's "Parental Rights in Education" law as anti-LGBT. On COVID, in March, Fried claimed that DeSantis didn't' shut down the economy quick enough but, when it reopened, she criticized the governor for opening it up too quickly.
Down in the polls, the Fried campaign is showing signs it may try to move to the middle.
In April, Fried's office announced they were going to sue the Biden administration over a federal rule banning medical marijuana users from buying guns or obtaining a concealed-carry permit.
The Agriculture commissioner's office heads up Florida's concealed carry weapons permits and regulates some areas dealing with medical marijuana.
Republicans, who criticized Fried's office for not being friendly to the Second Amendment, have dismissed this legal challenge as a political stunt. During the pandemic, the Florida Department of Agriculture and Consumer Services slowed down the concealed carry permitting process. Fried has also supported letting Florida cities enact more gun control measures at the local level.
Fried's Democratic opponents are questioning her motives. Taddeo used the opportunity to reaffirm her commitment to the Democratic Party.
"I'm a lifelong Democrat running for governor of Florida, and I have never sued the Biden administration," noted Taddeo.
Crist pointed to the "interesting timing" of Fried's lawsuit.
Prominent attorney John Morgan, a leading Democrat and a supporter of Crist, said he wasn't sure how much political mileage Fried can get out of the challenge. However, pollster, Keith Frederick, who used to work with Fried, said the lawsuit raises her profile and shows her embracing a popular issue.
Crist has been outpacing Fried on the fundraising front. Down in the polls and the money chase, Fried is starting to face pressure to drop out and run for reelection. The Democrats do not have a major candidate running for agriculture commissioner while state Senate President Wilton Simpson, R-Tribly, is a heavy favorite for the GOP nod. But even there, Fried could be an underdog since Simpson has built up an impressive war chest over the past year.
For the moment, Fried insists she is all in as she continues her gubernatorial bid.