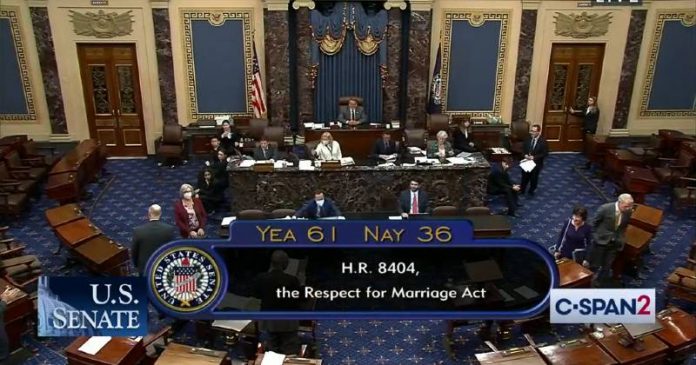 This week, the U.S. Senate passed the "Respect for Marriage Act" from U.S. Sen. Diane Feinstein, D-Calif., and U.S. Rep. Jerry Nadler, D-NY, which "would repeal the Defense of Marriage Act (DOMA), enshrine marriage equality for the purposes of federal law, and provide additional legal protections from individuals seeking to undermine marriage equality at the state level."
The Senate passed the measure on a 61-37 vote as a dozen Republicans joined the Democratic majority in supporting the measure while U.S. Sen. Ben Sasse, R-Neb., who will soon resign to take over as president of the University of Florida, did not vote. Florida Republican U.S. Sens. Marco Rubio and Rick Scott voted against the bill.
"I was proud to introduce the Respect for Marriage Act in July with Senators Baldwin, Collins and Portman, and I'm particularly pleased the bill passed today with such strong bipartisan support," Feinstein said on Tuesday. "We first introduced this bill in 2011 to require the federal government to recognize same-sex and interracial marriages. At the time, the discriminatory Defense of Marriage Act was law, defining marriage as between a man and a woman. Since then, public support for same-sex marriage has rapidly grown, topping 70 percent today. But although the Supreme Court ruled in Obergefell that same-sex marriage is legal, this bill remains critical to ensure protections for legal marriages.
"The Respect for Marriage Act will guarantee legal protections for millions of marriages in the United States, ensuring that marriages entered into legally are given full faith and credit by every state and the federal government," she added. "The institution of marriage is important in this country. Simply put, Americans should be free to marry the person they love, regardless of sexual orientation or race, without fear of discrimination or fear that their marriages will be invalidated.
"I have spent decades advocating for equality, as a county supervisor, a mayor and now a senator. I saw firsthand the terrible pain caused by hateful discrimination. I also watched the LGBT community fight for legal recognition of their lives, their relationships and their personal dignity. We cannot return to a system that allows bigotry and hate," she concluded. "My thanks to Senators Baldwin, Collins, Portman Sinema and Tillis for their leadership on this important issue. This is a historic vote, one that every proponent of equality can be proud of."
Rubio joined the GOP in unsuccessful attempts to amend the bill.
"Religious organizations, including orphanages, women's shelters, and schools, would likely be subject to crippling lawsuits if the so-called Respect for Marriage Act (RFMA) becomes law," Rubio's office insisted. "At issue is the creation of a private right action for 'any person who is harmed' by any entity operating 'under color of state law' that does not recognize a marriage recognized by the state in which it took place. The intentionally vague phrasing makes the provision ripe for abuse."
The senator's office added that Rubio "filed an amendment to strike the private right of action" which was done "to protect faith-based organizations." After the Senate passed the bill, Rubio weighed in on it.
"This bill does not protect religious liberty. Nuns running orphanages will find themselves in court if it becomes law. That's outrageous. No faith-based organization will be immune from the insanity. Christian. Jewish. Muslim. Everyone," Rubio said. "The Senate had a chance to fix this obvious problem, but it failed. Now faith-based organizations will suffer the consequences."
During a procedural vote on whether to advance the bill earlier in November, Scott weighed in on why he opposed the proposal.
"I proudly support the gay community in Florida and across the nation and will aggressively fight any attempt to take away the ability for same-sex couples to marry and live their dreams in our great country," Scott said. "Unfortunately, the bill under consideration by the U.S. Senate does not adequately protect the religious liberties of all Americans, as guaranteed by the Constitution. Thankfully, Senator Mike Lee has an amendment to both codify protections for same-sex marriage into law and maintain ironclad protections for religious liberty. I strongly urge my colleagues on both sides of the aisle to join me in supporting Senator Lee's amendment and working together to get this done the right way and with overwhelming support."
The bill now heads back to the U.S. House to pass the Senate bill which is slightly different than what Nadler originally introduced.
Back in July, the House passed Nadler's bill on a 267-157 vote while seven members–all Republicans–did not vote. Every single Democrat in the House voted to pass the measure and they were joined by 47 Republicans.
Every single Democrat in the Florida delegation backed the proposal. Republicans in the Florida delegation split on the vote. U.S. Reps. Kat Cammack, R-Fla., Mario Diaz-Balart, R-Fla., Carlos Gimenez, R-Fla, Brian Mast, R-Fla., Maria Elvira Salazar, R-Fla., and Michael Waltz, R-Fla., voted for the proposal. U.S. Reps. Gus Bilirakis, R-Fla., Vern Buchanan, R-Fla., Byron Donalds, R-Fla., Neal Dunn, R-Fla., Scott Franklin, R-Fla., Matt Gaetz, R-Fla., Bill Posey, R-Fla., John Rutherford, R-Fla., Greg Stuebe, R-Fla., and Dan Webster, R-Fla., voted against the proposal.
"Who one loves is not up for debate," said U.S. Rep. Lois Frankel, D-Fla., when the bill was passed in the House. "When two adults choose to commit to one another and build their lives together, they should be able to trust that the government will recognize their marriage. When the Supreme Court undermined access to abortion care, they left the door open to prohibiting same-sex and interracial marriages. This bipartisan bill would stop these extreme efforts in their tracks."
"It's clear that the Supreme Court has a put a target on the rights of everyday Americans because of their gender, and possibly soon because of their sexual orientation or other aspects of their identity," said U.S. Rep. Frederica Wilson, D-Fla. "As champions for our fundamental rights of privacy and the freedoms of everyone in our community to marry the person they love, I am proud to join my colleagues in the House and Senate in repealing the Defense of Marriage Act and once and for all protecting the marriage rights of our LGBTQ+ community. We cannot sit idly by as this radical court erodes our freedoms."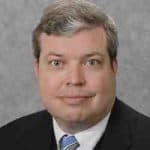 Latest posts by Kevin Derby
(see all)